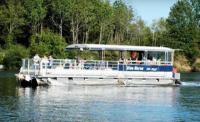 NEWS FLASH!
Our cruises have MOVED TO PERCY PRIEST LAKE.
* just 27 miles southeast of downtown Nashville, off I-24 at the Smyrna exit
(Sam Ridley Parkway)
* Variety of cruises, from Nature Cruises to Kids Adventure Cruises to Sunset
Cruises.
[No longer offer Waterfront Homes Cruise or Harpeth River Cruise]
* Excellent for seniors groups, church groups, and private birthday parties
for all ages.
* Kids Adventure Cruise - no stop at playground
Business Location:
Fate Sanders Marina & Restaurant
37122
Mount Juliet, TN
,
TN
Neighborhood:
--Mt Juliet
East of Nashville
--Ashland City
Northwest of Nashville