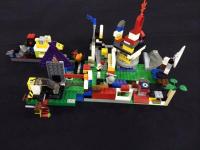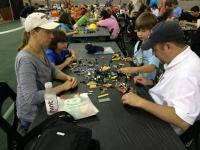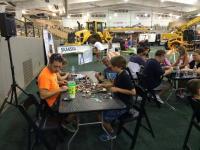 Bright, colorful and full of LEGO® Bricks of every size and description your child can imagine, a Bricks 4 Kidz® Creativity center is a safe, fun, enriching place for your child to learn, build and play. Creativity Centers are an action-packed venue for open play sessions, mommy-and-me classes, camps, kids night out, birthday parties, field trips, and more!
Rainy Day? Too hot? Too cold?
Kids are bored with "nothing to do"? Bring them to the Creativity Center for an afternoon of play! Open the door to LEGO® Bricks of every shape and size, in themes like trains, space, cars and city! Let their creativity soar as they build a world as big and fanciful as their minds can imagine. Bricks 4 Kidz® offers pay-to-play sessions for kids of all ages, as well as Parent and Child classes for preschoolers. More information HERE.
Creative Play
Sometimes you just need to give the kids some time to play. Our Open Play times are great for active and creative minds that just need an outlet. Open Play is a non-structured program where we encourage creativity and exploration. We have Open Play during the following times throughout the year, so stop by and let your kids have fun…parents are welcome to play too.
Creative Play Times Only
Monday – Saturday 10 am – 4 pm
Camps
A Bricks 4 Kidz® camp is a fresh and fun way for kids to spend their school break! With guided projects and challenges as well as time for free-play, Bricks 4 Kidz® camps keep the pace fast and varied so the kids are always having fun. Our screened, trained Bricks 4 Kidz® teachers provide friendly, qualified supervision for your children, so you can rest assured they are safe and happy. Camps are designed around a variety of themes kids love, such as Space Adventures, Amusement Park Mania, Movie Making, Motor Mania, Junior Robotics and EV3 Mindstorms Robotics. Check out our Camps page for more details.
Kidz Night Out
A Bricks 4 Kidz® Kidz Night Out is a high-energy, creative, fun evening full of LEGO® projects, games, and more! We provide pizza, games, projects, and of course, loads of LEGO® Bricks for all the creativity and building their minds can imagine. Children spend 3 hours in our center, supervised by our trained, screened staff. Bring your kids to our Bricks 4 Kidz® Creativity Center while you enjoy some quality adults-only time. You'll feel great knowing your kids are in a safe, enriching environment, and the kids will have so much fun they'll beg to come back every week! Find out more about Kidz Night Out HERE.
Birthday Parties
Tired of the same old backyard birthday party with all the work that goes into preparing, planning and cleaning up? Let us make your child's next birthday an unforgettable experience, without all the hassle for you! Come enjoy a Bricks 4 Kidz® Birthday Party at our bright, brand new, bursting with fun Creativity Center. Check out our Birthday Party page for more details.
Drop into our Creativity Center and experience the learning, building and playing the Bricks 4 Kidz way!
Business Location:
Bricks 4 Kidz Middle Tennessee
99 Seaboard Lane, Suite 100
37027
Brentwood
,
TN
Neighborhood:
--Brentwood
South of Nashville