Calypso Cafe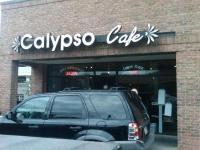 Here is where in Nashville you can find some really great Cuban food. Calypso Café offers fast, affordable meals that are good for you! For over 24 years our restaurants have been serving up our Cuban black beans, bountiful salads, rotisserie chicken, island burgers and vegetarian side items in the Nashville area. Our mission is simple…high quality, hearty, healthy dishes at a reasonable price in a fun, relaxed and efficient setting. Get the family together and enjoy something exotic and a bit different tonight.
Location information:
Vanderbilt: 2424 Elliston Place - 321-3878
100 Oaks/ Berry Hill: 700 Thompson Lane - 297-3888
East Nashville: 1101 Gartland Avenue - 227-6133
Belle Meade: 5101 Harding Pk. - 356-1678
Cool Springs: 600 Frazier Drive - 771-5665
In addition to table service, Calypso has been consistently voted "Best Take Out" by The Nashville Scene readers. Families and large groups enjoy our take out Family Special chicken meal—you can not only feed your family, but feed your family well--and at a great price. For your next meeting or event, smaller groups can order individually off the menu for pickup (call ahead for even faster service), or if you prefer, we can package your meal buffet-style. Our catering team could even help you with a larger party or event.
The best part of what we do is our customers… we know them, and we like them! They are our best advertising by spreading the word about Calypso, and we are so grateful! Of course, enthusiasm is contagious; when you have fantastic customers, it's easy to continue to inspire and retain Calypso staff. Our customers are active, engaged, and energetic. They are going places, and we help them stick to their schedule without sacrificing quality or nutrition.
Let's face it – we all need to Eat Better. Calypso's just making it easier.
Calypso Café, Eat Better, Be Better!
Neighborhood:
--Downtown
Downtown Nashville
--West End / Vandy Area