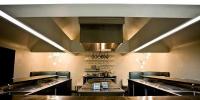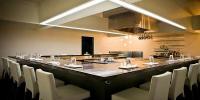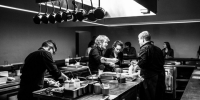 Twenty bar seats surround a U-shaped kitchen where Chef Trevor Moran and his team prepare your meal as you watch. The meal is fast paced and exciting, with a variety of dishes and bites being put in front of you. Chef Moran and his team are happy to chat with you about dishes, techniques, and ingredients. Though food focused, the meal is also lively and fun.
Take a look at Nashville's award-winning tasting room, The Catbird Seat, with the appointment of Noma alum, Trevor Moran, as executive chef.
"We're very excited to welcome Trevor to Nashville and see the next iteration of The Catbird Seat," said owner Benjamin Goldberg. "Since we opened The Catbird Seat two years ago, our vision was to be a place where young chefs can express their creativity with no culinary boundaries. Trevor is extraordinarily talented and takes a unique team approach to his cooking, so I know the creative minds collaborating in our kitchen are going to create some amazing dishes."
In 2009, Trevor was presented with the opportunity to study under Chef Rene Redzepi at Noma. As he worked his way up to Sous Chef, Trevor learned the ins-and-outs of the Nordic kitchen, sourcing local, seasonal products which helped to create dishes and menus to specifically showcase different regions of Scandinavia.
Trevor brings his Irish and Nordic background to an entirely new region, challenging himself to continue evolving the modern cuisine the restaurant has become known for.
Neighborhood:
--Downtown
Downtown Nashville