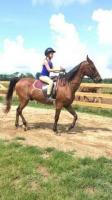 We love to share our passion for horses with others. Daybreak Farm & Riding Academy can share many aspects of horsemanship. Our farm has everything from the young adorable foals to our many lesson and rescued horses to our fabulous show horses.
Carmella, our owner and trainer, has over 35 years of experience working with horses. She has done everything from jumping to dressage before she found her favorite breed and discipline in the American Saddlebred and saddleseat riding. Carmella has a unique teaching method and does a fantastic job of being able to help each student reach his or her potential. She has so much fun with our youngest of riders and is able to challenge our show riders without skipping a beat.
​Tricia joined the team when her daughter attended horse camp many years ago. Tricia is our director and is in charge of all of our scheduling, day camps, scouting events and promotional events. She was a school teacher, a scout leader and has brought her great organizational skills to the barn family.
​Together, these 2 ladies handle everything on the farm. They are the maintenance crew, the training crew and the bosses. So far, there isn't anything that they can't tackle with teamwork!
Business Location:
Daybreak Riding Academy
37122
Mt Juliet
,
TN
Neighborhood:
--Mt Juliet
East of Nashville