Dickens of a Christmas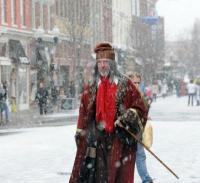 Travel back into the Victorian era, every second weekend in December. This year, Dickens of a Christmas continues its tradition in Historic Downtown Franklin, Saturday and Sunday, December 9-10th, 2017. The free, holiday-themed street festival, is expected to attract some 50,000 visitors over the weekend. Each year, Main Street recalls the spirit of Christmases past when the Heritage Foundation throws its annual Dickens of a Christmas celebration!
Franklin's Main Street–and its beautiful Victorian architecture–will be decked out for the holiday season. Some 200 characters, dancers and entertainers in the street, including several from Charles Dickens's stories interacting with the public. Expect to see the nefarious Fagin from Oliver Twist; Jacob Marley, Ebenezer Scrooge and Tiny Tim Cratchit with his parents from A Christmas Carol; and of course, a Victorian Father and Mother Christmas with treats for children.
Activities include:
Horse-drawn carriage rides around the Public Square for a small per person fee.
A holiday bazaar arts & crafts area encircles Franklin's charming Public Square.
Dancers and street musicians on Main Street throughout the event. Violinists, hand bell choirs, harpists, carolers and even a water harmonica player all add to the entertaining street scene.
Costumed characters from Dickens' stories interacting with visitors on the street. Scrooge bellows his "Bah! Humbug" while the Cratchit Family parades the streets with Tiny Tim. Ghosts of Christmas Past and Future make regular appearances. Urchins under the direction of the nefarious Fagin from Dicken's Oliver pester English Bobbies (who are actually Franklin Police Officers on duty in costume). Father and Mother Christmas delight children.
Victorian treats abound, from authentic fish 'n' chips to turkey legs, roasted nuts, kettle corn, roasted corn, roasted pork, sausages and sugar plums.
A Town Sing starting at the Public Square at the town Christmas tree at 4:30 p.m. Sunday with candles ($1 donation requested) and song sheets.
Getting there: From Interstate 65, take Exit 65 and head west toward Franklin for three miles on Highway 96 / Murfreesboro Road / Third Avenue South, which runs into the Public Square at the heart of the festival. Turn right or left at Church Street as you approach the Square to access either of the two free parking garages on Fourth Avenue South or Second Avenue South. Additional on-street free parking is available.