Dohnal Chiropractic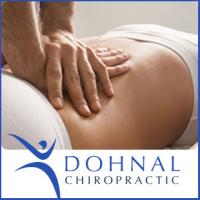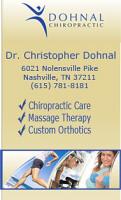 Naturally, chiropractic helps traditional neck and back problems, but chiropractic has also produced wonderful results for conditions such as headaches, stress and weight issues.
Our South Nashville chiropractic office uses procedures and adjunctive services that help our patients enjoy the fastest results in the shortest amount of time. Like other South Nashville chiropractors, there are certain health conditions we especially enjoy helping. For us, our most rewarding cases involve…
Headaches
We can help people of all ages here in our South Nashville Chiropractic office
Chiropractic can help just about anyone, regardless of their age.
Everyday people suffer from pain that is directed inside their head, the term we use for this is headaches. Headaches are a fairly common pain for everyone and most people take medications to deal with it. Many times the headaches may be a warning sign, like a fire-alarm, for a different area of the body where a problem is occurring. Dr. Dohnal focuses on giving you relief from the headaches, while treating and correcting the underlying problem. We want to help you live your life pain free.
Plantar Fascitis
Plantar fascitis is a condition in which the thin layer of tissue on the bottom of the foot becomes irritated. Most people notice this when they have heel pain, especially their first couple of steps out of bed in the morning. Causes are typically due to soft tissue injuries and poor biomechanics. Dr. Dohnal understands how to correct this pain through soft tissue therapy, restoring proper biomechanics, and in some cases the use of custom orthotics which are fitted at our office. We want to help you get back on your feet and have the active lifestyle you want.
Low Back Pain
Most people at one point or another will suffer from low back pain in their life. In the past people were told to take medication and to rest and the pain would go away. Today, we know that immediate treatment using manipulation, physical therapy, massage, and therapeutic exercises works best. Dr. Dohnal will determine the cause of your pain to see what treatment is best for you; most commonly it is a disc, muscle or soft tissue injury, vertebral joint fixation or postural imbalances. Our goal is not only to get you out of pain but to keep you out of it by addressing the underlying mechanism of your low back pain.
Knee Pain
Most commonly this is Patellofemoral Syndrome, which affects many people, women more often than men. It is characterized by "creaking" of the knees and pain around the knee cap. Typically, it is caused by improper tracking of the knee cap and the knee itself. Dr. Dohnal uses manipulation, physical therapy and specific exercises to help this condition and provide relief of your pain.
Carpal Tunnel Syndrome
Carpal tunnel syndrome with the increased computer use and texting has become an epidemic in the U.S. Symptoms include tingling, numbness, weakness and pain in the wrist and hand which can interfere with work and your daily routine. Carpal tunnel syndrome is caused by pressure on the median nerve, which can occur at many different impingement sites including the wrist, elbow, shoulder and even your neck. Dr. Dohnal treats this condition through using manipulation, therapy and exercises, to get you feeling better without the use of drugs or surgery.
Business Location:
Dohnal Chiropractic
37211
Nashville
,
TN
Neighborhood:
--Antioch & Priest Lake
East of Nashville