Doing Good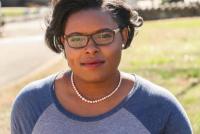 Encouraged in Christ
By: Annie Low
Nashville, TN, August 30: Carleigh Frazier has been awarded Nashville Volunteer of the Month for her amazing work with Project Transformation and Rescue Mission. Carleigh helps the kids she tutors to build healthy friendships based on patience and compassion.
With her students, she usually goes through reading plans and other various activities. She enjoys watching the kids get excited to learn and tries to have fun with them. Carleigh wants to see the kids she works with succeed. She is passionate about "education and ensuring that children have the BEST possible chance of reaching their goals through education."
Carleigh believes that God has a special plan for each of the kids she encounters even if she may not talk about Him when they are together. She believes that they have a purpose that is laid out in His plan.
"I don't share the gospel every place I serve but it definitely why I serve. Even tutoring programs are a way for me to emulate and worship Christ of such a way that I give back."
Nashville's Volunteer of the Month is a program of Doing Good, a 501(c)3, nonprofit organization which educates and inspires people by celebrating the real stories of real people who volunteer. For additional information about Carleigh, Doing Good, or other volunteers, visit the website www.DoingGood.tv or @DoingGoodTV on Facebook, Twitter, Pinterest, Instagram, or YouTube.
Doing Good is a 501(c)3 nonprofit that provides marketing and public relations tools, resources, and opportunities to nonprofit and government agencies to celebrate their volunteers.
www.DoingGood.tv