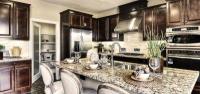 Buying a home - not to mention caring for the home you've already bought - can sometimes seem daunting. Over the years we've helped hundreds of thousands of homeowners like you. Now, we've bundled together the most useful tip, tricks, articles and FAQs right here into our Resource Center.
Tollgate Village (in Thompson Station) is a community you will fall in love with instantly. It is a quiet neighborhood located just south of Franklin, TN. As you drive through the community you will notice that the grounds are well maintained, the homes are cared for, and the amenities are sure to please. In Tollgate Village there is truly something for everyone. If you want to enjoy a relaxing day strolling on the walking trails you can, or if you want to spend family time at the amazing community pool that is an option too. And that's not all; we have more amenities that are sure to please the other members of your family as well. Tollgate Village has a fun and kid friendly playground for the little ones in your family. Or there is sand volleyball, basketball, and tennis that is sure to entertain. And we can't forget about your furry friends. You can also let your dog stretch it's legs and enjoy the beautiful dog park. Here at Tollgate Village we have truly thought everything. There is something for everyone to love. Stop by and take a tour of our amazing community!
Our Carellton community is a hidden treasure. Offering new homes in Gallatin, TN, this community is a desirable option for those wanting to be away from the hustle and bustle of city life. As you drive through the community you will notice beautiful homes sitting on spacious lots. Carellton is zoned for Station Camp schools and pricing will start in the mid $200's. Carellton will offer one level floor plans and master down living. The amenities package for this community will include a pool, cabana, and walking trails.
Business Location:
--Lennar Homes at Carellton
37066
Gallatin
,
TN
--Lennar Homes at Tollgate Village
37179
Thompson Station
,
TN
Neighborhood:
--Thompson Station
South of Nashville
--Franklin
--Gallatin
North of Nashville