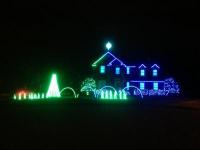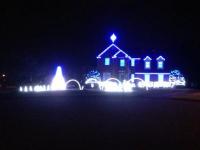 This impressive Franklin light show began in 2008 and has entertained locals every year since. The Lipton Light show, which offers thousands of lights, is choreographed to music and broadcast on a local FM radio channel so you can watch and listen to the synchronized show right from your car. But make sure to make a quick stop because the folks running the annual Lipton Light show also accept donations which go directly to benefit Happy Tales.
We've put a lot of work into making this show unique. We have managed to update all lights in the show this year to RGB color-changing LEDs. We have removed the Christmas Tree line this year as we did not have an opportunity to convert those trees to LED just yet. Going forward, all new lights will be RGB color-changing LEDs.
The second biggest change this year will be the Mega-tree. The Mega-tree has been re-created from the ground up. All of the lights on the Mega-tree will be individually controllable. This should create some really cool effects. There will be 2,560 RGB lights on the Mega-tree and 7,680 control channels.
The Bethlehem star has been completely re-worked as well. This year, the star is much better looking as well as multi-color. We can control colors for three different sets of patterns on the star.
Instead of wrapping the large trees in our yard, we've added a nice surprise. You'll have to come out to see the effects we've added this year!
Lastly, all of the lights on the bushes are now controlled in sets of 100 lights. This allows us to do smooth color fades across the house as well as create some nice color blends within the same bush or tree.
It's been a lot of work, but we're really proud of the show this year. We hope you can come by and enjoy the new elements!
At 213 Lipton Ct., Franklin, TN, we celebrate Christmas a little different from most people. Starting in 2008, we have been running an animated Christmas light display for the Nashville and Franklin community.As of 2009, we added a donation box for a local charity. For 2012, we converted to 100% LED color-changing lights. We run the display from a dedicated playback system, an FM transmitter, and hundreds of feet of data / communications cable. Music is broadcast on a local FM radio frequency (107.7) so you can listed to the show from the comfort of your car. Be sure to stop by!
Neighborhood:
--Franklin
South of Nashville