Liveminds Adventure Escape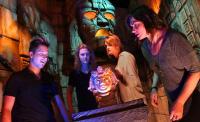 An adventure escape is a unique interactive and immersive experience where you and your team must work together to find clues, solve riddles, and overcome obstacles in order to complete your mission and escape before time runs out. Each adventure escape lasts for 60 minutes—or sooner if you're clever enough to escape!—but we encourage players to arrive a minimum of 15 minutes early in order to have time to fill out waivers and receive their mission briefing. Adventure escapes were created for teams of 3 to 10 players, ages 14 and up, and are designed to create a fun environment where all members of your team must work together in order to complete your mission. Games were created for adults 14 and up because of the complexity of problem-solving within the game. However, younger players are welcome to play if they are accompanied by an adult and have a waiver form signed by their parent or guardian.
Conveniently Located in Franklin Tennessee Right off I-65–HWY 96 EXIT.
HOURS
Wednesday 12:00 PM – 11:00 PM
Thursday 12:00 PM – 11:00 PM
Friday 12:00 PM – 11:00 PM
Saturday 12:00 PM – 11:00 PM
Business Location:
Liveminds Adventure Escape
1120 Lakeview Drive Suite 700
37067
Franklin
,
TN
Neighborhood:
--Franklin
South of Nashville