Natchez Hills Vineyard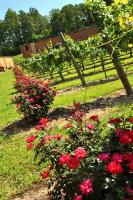 South of Nashville near the historic Natchez Trace lies Natchez Hills, our boutique family vineyard and winery. We create old-world, handcrafted, small-batch wines using traditional winemaking techniques to ensure the grape's truest expression. Come stay at our bed and breakfast for a unique experience that celebrates Tennessee artisans, songwriters, and an organic lifestyle.
Business Location:
Natchez Hills Vineyard
109 Overhead Bridge Rd
38461
Hampshire
,
TN
Phone: 931-285-2500
Natchez Hills Bed & Breakfast
906 Ridgetop Rd.
38461
Hampshire
,
TN
Phone: 931-285-2777
Neighborhood:
--Brentwood
South of Nashville
--Spring Hill
--Thompson Station