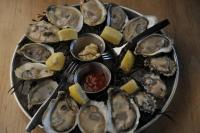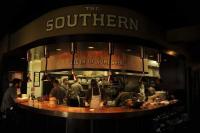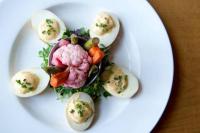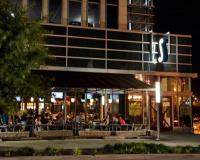 Located on the ground floor of the Pinnacle at Symphony Place in the heart of downtown Nashville,
The Southern takes its guests on a culinary journey where every entrée tells a story.
Featuring a state-of-the-art, shuck-to-order oyster bar, a real wood-fired grill, locally-grown produce, deliciously tender meats and directly-sourced, sustainable seafood, The Southern combines indigenous flavors with exotic ingredients to offer an authentically southern experience with a twist. The Southern's cuisine brings a southern sensibility to time-honored dishes from around the world. With influences from the Gulf Coast to the Carribean; from Nova Scotia to North Carolina, the menu at The Southern is truly "south of somewhere."
We invite you to gather with friends in our bustling New Orleans-style oyster circle, take a seat at the bar, tuck out of the way in a high-backed booth or host a party in the Demonbreun Room. We look forward to hosting you at The Southern.
The Southern Steak & Oyster Menu includes:
Fish N' Grits, Your Way, Catch Sandwich, Lamb T-Bone, My Way, Free Bird, The Highway, Chicken Fried Chicken, Rio Grande Pasta, Shrimp Blt
Business Location:
The Southern Steak & Oyster
37201
Nashville
,
TN
Neighborhood:
--Downtown
Downtown Nashville