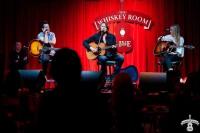 The Whiskey Room - Live is a live music venue at Kings Cool Springs just south of Nashville in the historic town of Franklin Tn.
The Whiskey Room has live music 7 nights a week. Live local singer/songwriters play on the stage on Tue Wed &Thurs. Friday night is FRIDAY NIGHT KARAOKE. Live bands from the local talent fill in the rest of the week. Have a blast and see some great shows in this intimate setting of only about 150 seats. Similar to the Bluebird Cafe in its size.
Catch a great band or enjoy some of the local singer/songwriters while you sip on the finest bourbon or a fresh whiskey sour.
The Whiskey Room LIVE is a 150-seat entertainment stage with state-of-the-art audio and lighting.
Just what Nashville is known for.
Smokin Music and Smooth Whiskey just seem to go together in Tennessee.
Neighborhood:
--Franklin
South of Nashville