Willow Grove Community DGC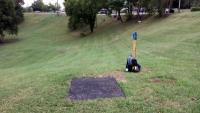 Disc Golf course.
Recreational course for apartment complex residents and the general public. Currently six baskets with a seventh tee shooting to the first basket.
Players repeating holes #2 and #6 as Holes #8-#9. But plans are in the works to add three additional baskets (distinct holes) as funding allows.
Neighborhood:
--Antioch & Priest Lake
East of Nashville