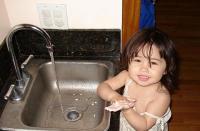 "The secret to good teaching is to regard the child's intelligence as a fertile field in which seeds may be sown, to grow under the heat of flaming imagination."
~Maria Montessori~
Established in 2007, Bambini Montessori is located in the Donelson area in Nashville, Tennessee. We serve children ages 8 weeks – 4th grade. We employ Dr. Maria Montessori's method of teaching. The environment is a mixed age grouping, this provides the opportunity for the children to learn from each other. The children get lots of one on one lessons and learn about respect for themselves and those around them.
We are proud members of the American Montessori Society. Our state certification is through the Department of Education.
Neighborhood:
--Donelson & Opryland Area
East of Nashville