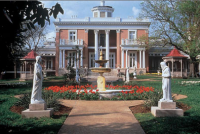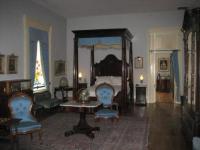 As the largest house museum in Nashville, we take pride in our ability to provide our guests with an interactive and informative tour. Small tour groups, no more than 15 guests, ensure each visitor the opportunity to enter every room, both large and small, and receive a truly personalized touring experience. Each tour is typically an hour in duration, however, be sure to plan a little bit of extra time to take in our extensive gift shop, which features an array of little indulgences from jewelry to artwork to Belmont Mansion merchandise. Photo taken by Belmont University student Ryan Glaze (R.A.W. Photography).
The tour of the downstairs portion takes about 45 minutes, while the upstairs portion of the tour is about 15 minutes long. Please note the upstairs part of the tour is not wheelchair-accessible.
To begin your tour, please come to the entrance facing the interior of Belmont University's campus. Because Belmont Mansion contains more than 10,000 square feet, it may take a moment for a tour guide to greet you at the door, so please be patient! Tours begin when you are greeted, and there is no need to schedule a tour prior to your arrival unless you are part of a group of 10 or more. If that is the case, please call (615) 460-5459 to schedule your personal tour.
The Mansion does have an alternate wheelchair-accessible entrance. Please call ahead if you need to use this entrance. A Mansion staff member will meet you and direct you to this entrance.
For large groups, groups of 65 to 200 guests, we offer an opportunity to tour Belmont Mansion open house style. The tour begins in the Grand Salon, where all guests are given a 20-minute history of the Mansion and its most famous owner, Nashville's premier socialite, Adelicia Acklen.
The Mansion is then opened up to guests to tour at their leisure. With tour guides posted throughout the Mansion's various rooms, guests have the opportunity to poke their heads into the rooms that most capture their interest and ask all the questions they may have.
To learn more about our tours, please visit the History page of our website or call (615) 460-5459. We look forward to meeting you at Belmont Mansion!