Buchanan Log House and Addison Museum
During our summer hours (May 24 to Sept 30) The Buchanan Log House is open for tours on Tuesdays and Thursdays from 10:00 – 2:00 and on the 4th Sunday from 1:00 – 5:00. for a small fee, no appointment necessary. Hostesses will greet & guide visitors and take them on a tour of the Buchanan Log House and Addison Museum. This is a fun way to learn about the history behind the Buchanan Log House and the Donelson community!
Tours for schools or other groups are available by appointment.
Rental Information
Whether you're planning a log cabin wedding, looking for the perfect location for a family reunion, or tasked with finding a productive environment and quiet location for a business meeting, the Buchanan Log House complex offers the ideal solution.
Log Cabin Weddings
Buchanan Log House offers limited seating for indoor weddings, depending on size of wedding party, an outdoor wedding in the backyard can seat up to 150 guests.
One of the best parts of having your wedding at the Buchanan Log House is the feeling of tradition, of history made manifest, and a sense of long-lasting relationships.
Family Reunion Locations
Family reunions are all about reconnecting with family members and sharing family history. So what better place to hold your reunion than at one of the premier historical venues in Middle Tennessee!
Business Meeting Rentals
When you hold an off-site business meeting, you need a venue that allows you to focus on your agenda, not on the noise coming from the next meeting room over.
To check availability, you may either use our Contact Us form or call us directly at (615) 871-4524.
Directions to the Buchanan Log House
The Buchanan Log House is located in Donelson, 1/2 mile east of Donelson Pike at 2910 Elm Hill Pike.
Coming from Nashville using I-40: Take I-40 East to the Donelson Pike North Exit which is the next exit after the Airport Exit. After exiting, Elm Hill Pike is the third traffic light. Landmarks on the corners are Walgreen's, Arby's, and Advance Auto Parts. At this intersection, you will turn right on Elm Hill Pike and travel to us at 2910 which will be on your left approximately 1/2 mile from the intersection.
Coming from Nashville using Briley Parkway: You can also take Briley Parkway to Elm Hill Pike. Then travel Elm Hill Pike east and continue across Donelson Pike. After you cross Donelson Pike, we are located approximately 1/2 mile on your left. Along the way, you will pass the American Legion Post which is about half-way between Donelson Pike and our location. Enter the turn lane (middle lane) once you see Colfax on your left and the James Buchanan Cemetery on your right. We are at the next corner which is Hurt Road and Elm Hill Pike. If you come to a traffic light at McCrory Creek Road, you have traveled too far.
Event Parking: Once you arrive, please park on the front lawn Designated Parking Area with your cars facing Elm Hill Pike. 54 cars can fit in this area from the sign to the corner of the lot on the west side of the drive. The parking area immediately next to the house is reserved for the bridal party, caterer, and handicapped.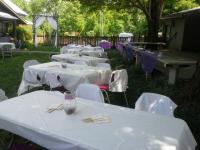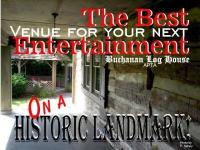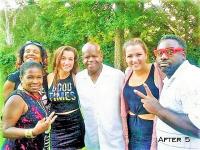 Business Location:
Buchanan Log House and Addison Museum
37214
Nashville
,
TN
Neighborhood:
--Donelson Airport Area
East of Nashville