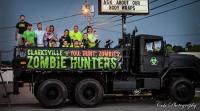 Opens September 26, 2019
Open every Friday and Saturday night from September 27, 2019 to November 2, 2019. Gates open at 6:00 pm. We will be open Halloween night this year
Before you go Zombie Hunting, it's best to hone your skills at the Shooting Gallery. Our on staff trainer has set up a Tactical Training scenario for you and will walk you through the steps of becoming a real zombie hunter. Master the skills necessary and you just might have what it takes. Spend some time at the shooting gallery to test your skills and impress your friends. Then go out on the Zombie Paintball Hayride or the Zombie Mission and prove yourself. After enough time at the shooting range, you just might have what it takes!
Zombie Paintball Hayride Experience
The Zombie Apocalypse is upon us and we need your help! Climb onto one of our Zombie Assault Vehicles (ZAVs) and take your seat at a turret-mounted paintball gun. In this interactive thrill-ride, we take you into the zombie-infested woods just outside of Clarksville and put you to work. Encountering dozens of infected biters, it's your job to put them down for good. With strobing black-lights, glowing paintballs, and a heart-thumping sound system, this one-of-a-kind intense ride is sure to get your adrenaline flowing. This all-ages/family-friendly ride lasts approximately twenty minutes and will leave you begging for more! You. Hunt. Zombies. (All Ages) Prices starting as low as $15! Gates open at 6:00 p.m, with the first hayride at 7:00 p.m., and gates close around Midnight.
Zombie Mission
We need your help clearing the South Woods but the trail is too tight for one of our ZAVs. If you are up to the task, we equip you with a Zombie Assault Weapon, spring-loaded with fifteen rounds of zombie-hunting ammunition, complete with its custom rail-mounted flashlight, and send you on an intense mission. There will only be a few of you on this trail, so be on the lookout! There are just a few Zombies left in the South Woods and we've had a lot of trouble trying to take them out. Aim for the head and don't get bit! Do you have what it takes? (All Ages, Under 13 must be accompanied by Adult) This inexpensive add-on attraction is only $5!
Zombie Shooting Gallery
Before you head off into the woods, hone your skills at the Shooting Gallery. We've created a tactical training center where you can fine tune your aim and simulate the Hunt ahead of you. Listen to your trainer, as he will show you what it takes to survive. Practice makes perfect, so do your best to hit your marks. Better hurry, we can't keep the zombie chained up for much longer! When you're done, you just might have what it takes to be a Real Zombie Hunter after all! (All Ages!) Prices starting at $5! BUY TICKETS NOW!
Zombie Escape Game
The Escape Game is all the rage and the most intense attraction Clarksville has seen yet. If you're bold enough, your group gets locked in "The Dark Room" with one mission – Get Out Alive! The clock is ticking as you find your way to get the lights on and maneuver through the obstacles to find your exit. Will you survive or will you be overcome by the unknown. What lies behind the darkness? There's only one way to find out and that's to enter "The Dark Room." (All Ages, Recommended 10+!) Prices starting at $10! BUY TICKETS NOW!
Movies at the Hunt
Movies at the Hunt is back! This year, enjoy a blockbuster hit on the Giant 20′ Movie Screen. Bring the whole family to the Free Movies in the "Zombie-Free Zone." This year's movie line-up is perfect for the whole family and is a great time together under the stars. Bring a blanket or some chairs and bring your appetite, as there will be concessions. When the movie is over, stick around for some more Zombie Hunting Fun! Movies start around Dark each night! Movies at the Hunt is completely FREE! Bring the whole family! Gates open at 6:00 p.m and movies start at dark!
Neighborhood:
--Clarksville
Northwest of Nashville