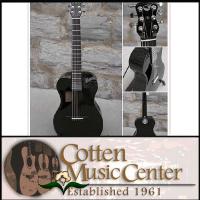 Acoustic Guitars and Mandolins - Great new and used small-shop and handmade guitars, mandolins, and banjos by Collings, Kimble, Northfield, Martin, Goodall, Santa Cruz, Borges, Baxendale, NoName, Peterson, Moku, National Reso-Phonic, Deering, Kentucky, and Seagull.
Miscellaneous Acoustic and Electric Guitars (new-used-vintage) - Check out our list--you might be surprised at what we've got. We update this list daily, so please check back often. We are always interested in hearing what cool used instruments you might have to consign or trade.
Accessories - LR Baggs, Fishman and K&K pickups; Levy's, Pete Schmidt, and Long Hollow Leather guitar, dobro, banjo and mandolin straps; Levy's and Reunion Blues cases and gig bags. Looking for a specific pick? Chances are we've got it. We've certainly got lots of picks, including Claytons, Wegens and ProPik Fingertone fingerpicks, etc. Strings? We've got just about anything you'd want, including D'Addario, John Pearse, DR, GHS, Elixir, Thomastiks and more. Let us know what you need and we'll get it right out to you.
Cotten Music Caps - Cotten Music caps are low-profile, 6-panel, baseball caps featuring our full-color logo (new silver stitching) on the front and Nashville, TN (also stitched) on the back. They are fully adjustable, so they should fit most folks. The regular low-profile caps are available in charcoal, light gray, and washed blue. We also have larger-size caps (the dome portion is larger) in charcoal and washed green. The larger caps have leather adjustment straps.
Cotten Music's Teaching Staff - For beginning students, Stan Lawrence is a wonderful teacher on both guitar and mandolin; for the intermediate or advanced guitar or mandolin player, we offer lessons with Jack Pearson. Email or call the shop for information on setting up lessons with these two fine teachers!
..
Business Location:
Cotten Music Center
434 Houston Street Suite 131
37203
Nashville
,
TN