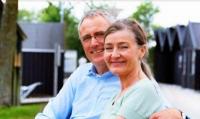 Ears 4 U Ronald C. Sheffey Hearing Services
Founded in 1990, we are committed to the highest quality of hearing health care. We offer a complete range of hearing aids, assistive listening devices, custom ear-pieces, and music monitors. We offer superior hearing care with memorable patient care. We welcome new patients. We offer a no charge second opinion. We cooperate fully with your doctor and insurance. We also make house calls.
Ears 4 U/ Ronald C. Sheffey Hearing Services is a BBB (Better Business Bureau) accredited business. Our location at 121 21st Plaza is close to Baptist, Vanderbilt and Centennial Hospital. Many of our patients will coordinate visits with us with their other medical visits. Our building has no charge parking on both sides of the building and a 3 story no-charge parking garage in the back of the building. In front of the building is a pull-through area for patient drop-off. Appointments are available Monday through Friday from 9-5. We also offer a walk in time from 12:00 noon till 1:00 p.m. daily Monday-Friday for brief visits. We have a 45-day return privilege on our hearing aids.
Your satisfaction is our goal.
Neighborhood:
--West End / Vandy Area
Downtown Nashville