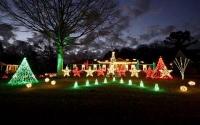 As a previous Holiday Lights Competition winner, Gill's Bright Lights offers synchronized 50,000 lights, over a dozen or so Christmas trees, and one mega tree. Remember to bring a canned food donation too as it goes to benefit Second Harvest. The donation bin is normally located at the front of the Mega Tree by the driveway.
We did collect food for Second Harvest this year. We are happy to announce that Gill's Bright Lights has donated nearly 9,000 meals over 2 Christmas seasons! Thank you to all the people who donated. Gill's Bright Lights and Second Harvest thank you.
Our Facebook and YouTube statistics have probably become one of the most exciting parts of Gill's Bright Lights. Our Angry Birds video from last year has hit 50,000 views! Our 2012 Gangnam Style video almost hit 5,000 views and has only been up 2 weeks. Our Gill's Bright Lights You Tube Channel has had over 60,000 views!
Next Year watch out! We can't wait to show you what we have planned.
Neighborhood:
--Hendersonville
North of Nashville