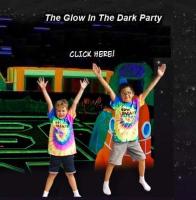 Welcome to Glow Galaxy, the Glow in the Dark Party Extravaganza. Glow Galaxy specializes in providing memorable birthday parties that are unlike any other. At Glow Galaxy we take care of the little details so that you can relax and enjoy your child's party.
Glow Galaxy is located in Cool Springs, right on the border between Franklin, TN and Brentwood, TN, just south of Nashville.
Kids go crazy for our all Glow in the Dark play area. The play area features five large glow in the dark inflatables, a mini-golf course, our special lighted interactive dance/game floor and football, soccer, basketball and air hockey games. All activities are included with the birthday party, so children can play it all and do their favorites over and over again.
Glow Galaxy Party Pros really enjoy playing games with the party kids and will have your party guests raving about the fun that they had during your child's party. We call our staff the Party Pros because they really know how to run a party, keeping it fun and organized throughout. Your Party pro will greet when you arrive and stay with your party until the end. They will play games, keep the birthday child at the center of attention, handle all of the seriving in the party room, and even entertain your group.
Neighborhood:
--Franklin
South of Nashville