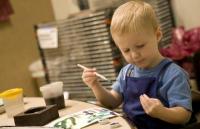 Martin ArtQuest's offers thirty incredible hands-on stations to inspire visitors to become artists as they learn about art. Visitors of all ages are invited and encouraged to create prints and collages, sketch and paint, or explore the essentials of art, including color, pattern, texture, and perspective. The activities at the stations change as the Frist Center's exhibitions change, so there's always something new to try!
MARTIN ARTQUEST GALLERY HOURS:
Monday through Saturday: 10:00 a.m.–5:30 p.m.
Sunday: 1:00–5:30 p.m.
ArtQuest is not just for kids. Everyone is welcome to come in and learn about and make art. It's not at all unusual to see a grandparent, parent, and child all participating in the same engaging activity.
ArtQuest is staffed by trained art educators and knowledgeable volunteers to help everyone create and learn about art!
Business Location:
Martin ArtQuest at Frist Center
37203
Nashville
,
TN
Neighborhood:
--Downtown
Downtown Nashville