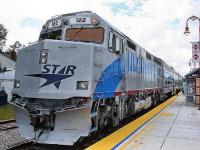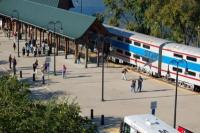 The only commuter train in Nashville currently runs from the city of Lebanon to downtown Nashville and back with stops in Donelson, Hermitage, Mt Juliet and Lebanon. On Friday evenings people on the east side of Nashville including Wilson County will take the train downtown for a evening on the town without the expense of parking. Tickets must be purchased in advance. You can purchase tickets at any local Kroger Store.
Riverfront Station
Riverfront Station is the destination station for the Music City Star regional train. It is located at 108 1st Avenue South in downtown Nashville at the foot of Broadway, adjacent to the Flag Court and the Shelby Street Pedestrian Bridge. The station does not include parking facilities; however, space is incorporated into the facility to accommodate efficient connections between regional rail and MTA bus services. Complimentary bus service is provided from the station to nearby areas.
Donelson Station
Donelson Station is located at 2705 Lebanon Pike. It is directly north of the intersection of Donelson Pike and Bluefield Avenue and is adjacent to Fifty Forward with direct access to the Park & Ride lot from Donelson Pike. Route 6 Lebanon Pike and Route 34 Opry Mills buses operated by the Nashville MTA also serve the Park & Ride lot. Approximately 230 parking spaces are provided.
Hermitage Station
Hermitage Station is located at 4121 Andrew Jackson Parkway. It is directly off of Andrew Jackson Parkway near Old Hickory Boulevard. Route 6 Lebanon Pike buses operated by the Nashville MTA also serve the Park & Ride lot. Approximately 280 parking spaces are provided.
Mt. Juliet Station
Mt. Juliet Station is located at 22 East Division Street. Approximately 220 parking spaces are provided and has direct access from Division Street.
Martha Station
Martha Station is located at 65 Martha Circle (State Route 109 and Powell Grove Road) in Lebanon. It opened as a temporary station when Music City Star service first began due to pending track realignment for improvements to Highway 109. Construction of the permanent station began in December 2009 and was completed in February 2011. Approximately 74 parking spaces are provided.
Lebanon Station
Lebanon Station is the origination point for the Music City Star's East Corridor Regional Rail line. It is located at 334 W. Baddour Parkway. Early morning train service begins here and makes stops at the other stations along the route before arriving at Riverfront Station in downtown Nashville. Lebanon Station is located on an old factory site, which is bordered by Baddour Parkway, Greenwood Street and Hill Street. Approximately 140 parking spaces are provided with direct access off of Baddour Parkway.
Neighborhood:
--Downtown
Downtown Nashville
--Donelson & Opryland Area
East of Nashville
--Hermitage
--Mt Juliet
--Lebanon