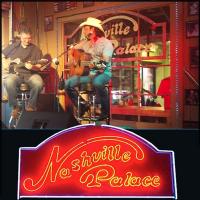 The legendary Nashville Palace, once the home of the stars of The Grand Ole Opry and television shows such as Hee Haw and Nashville Now near Opryland, is now owned and operated by Jesse Lee Jones, the proprietor of Robert's Western World, the "Home of Traditional Country Music" in downtown Nashville, Tennessee.
In taking over the reins at the Nashville Palace, Jesse Lee's primary goal is to bring the Palace back to the "Golden Era" of country music, bearing in mind the stars that were born in that very place. It is also a priority to promote and perpetuate traditional country music and its history. It is Jesse Lee's belief that this is the music that made "Music City" and it is befitting to maintain and keep alive this artform that was born in Bristol, Tennessee, the birth place of country music, but made popular worldwide right here in Nashville.
The Nashville Palace presented by Robert's Western World is now back open with the musical integrity that everyone has come to expect and appreciate when visiting Robert's Western World.
Come on by and see us!
Business Location:
The Nashville Palace
37214
Nashville
,
TN