Rocketown was founded in 1994 by Michael W. Smith. The first of its kind in the Southeast, Rocketown has grown into a regional outreach as well as a model for Christian-based relational outreach across the country. Following the tragedy of Columbine in 1999, Rocketown's board was inspired to grow the scope of programming and move to a central location in downtown Nashville. The current facility features three stages for live entertainment, Middle Tennessee's only indoor skatepark, The Hub snack bar, a recording studio, and photography, art and dance studios. More than 800 teens from across the Middle Tennessee region participate in programs each week and at an after-school program at McGavock High School.
How We Reach Teens
Sixth Avenue skate shop and skate park
3 venue sizes for concerts and live entertainment
After-school activities onsite and at McGavock for at-risk 8-22 year olds
Bible studies: Potluck, Skate Church, Wednesdays
Recording studio
GearHeads: go karts, car engines, bicycles
Art, computer and jam lab studios/classrooms
Arts and Entertainment Summer Camp: hip hop dance, movie making, fashion design, photography, rhyme lab, skateboarding
Girls Night/Man Night
Community Service
Volunteer opportunities and college Internships
Averaging 800+ teens per week, Rocketown has received nearly half a million visits from across Middle Tennessee during its existence.
ROCKETOWN COFFEE BAR
High school students, musicians, professionals and attendees of private events all feel comfortable in Rocketown's Coffee Bar. Coffee bar serves as the "living room" at Rocketown with comfortable furniture, an acoustic stage, and ever-changing art exhibits. We serve everything from cheeseburgers to frozen lattes. Here, students unwind after-school with snacks, ping-pong, pool and video games. They also find help with homework, have access to computers, and participate in a variety of creative after-school programs available. Parents are welcome to enjoy a cup of coffee from our full service espresso bar while their child experiences all that Rocketown has to offer.
In the evenings, Rocketown Coffee Bar serves as a venue for acoustic performances, spoken word, showcases and private parties. All rentals at Rocketown help support Rocketown's outreach to area youth.
On show nights the Coffee Bar is open show hours. You must have a ticket to the show to be in the coffee bar.
Coffee Bar hours subject to change.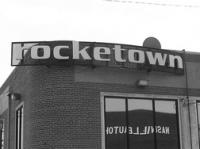 Neighborhood:
--SoBro
Downtown Nashville