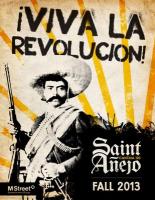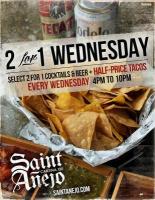 Saint Añejo is M Street's premiere Mexican restaurant, featuring inspired Mexican cuisine, Latin mixology, and a premium tequila and mezcal menu of over 120 labels. The menu showcases creative tacos, house made guacamole, and regionally-influenced Chef specialties. Saint Añejo's cocktail list features craft margaritas and Latin mixology classics, constructed with premium spirits, fresh, exotic produce and botanicals, and unique combinations of nectars and spices.
A series of enormous convertible windows open the entire space out to M Street, and an elevated large patio shares an indoor/outdoor bar with the interior.
The Tequila Library lounge, located in a private mezzanine that overlooks the first level, is the perfect location to host a tequila tasting, birthday party, or other private event. For more information on reserving the Tequila Library for your private event, please call 615.736.5301.