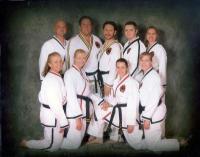 We are glad that your found your way to us. Stevens Family TaeKwonDo is a full service, traditional martial arts studio located about 20 minutes outside of Nashville, Tennessee in Murfreesboro.
Owned and operated by Master Jack R. Stevens, Jr.; our school offers over 30 years of expertise in martial arts instruction with both children and adults.
Our after school program is the largest in Rutherford County, serving all schools in Murfreesboro, and almost all of the ones located in Rutherford County. We offer camps for kids during the summer months that will keep your child moving and entertained all summer long.
In addition to our traditional programs, we offer classes designed to get every member of your family moving and having fun. Our krav maga, tumbling and cardio kickboxing classes will keep those not looking to spar a chance to get fit and healthy as well.
Please, stop by either of our two locations and try out a class for FREE! Then stay and become part of our family.
Business Location:
Stevens Family Tae Kwon Do
Murfreesboro
,
TN
Neighborhood:
--Murfreesboro
Southeast of Nashville