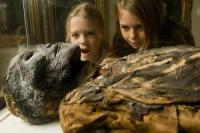 Each year in October the Haunted TN State Museum opens it doors to kids and families to share ghost stories from Tennessee's haunted history. Don't miss the museum's annual ghost story festival, Haunted Museum. It is a FREE event with lots of surprises!
The event features a "ghost trail" through the museum with prizes, crafts, and refreshments. At stops along the ghost trail there will be chilling ghost stories from Tennessee's past, including the Bell Witch, the Cherokee spirit Spearfinger, John Murrell's thumb, and many other scary tales.
This year, Nashville's co-founder, James Robertson, will be practicing medicine as it was in frontier times.
The trail ends at the Haunted Storyteller's Stage where professional storytellers from Exploratory will spin tales about Tennessee. The Exploratory storytellers shape their stories to promote social justice, family values, and citizenship while bringing history and tradition to life.
Children will receive prizes as they follow along the ghost trail. Those attending the Haunted Museum event are invited to wear costumes and enjoy complimentary refreshments. Be sure and join us for one the museum's most popular events!
Business Location:
Tennessee State Haunted Museum
Polk Center, 505 Deaderick Street
37243
Nashville
,
TN