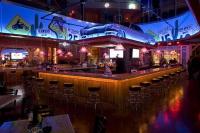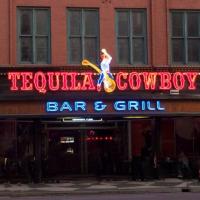 Tequila Cowboy is the premier spot in Nashville Tennessee, located on the world famous Broadway.
You might recognize Tequila Cowboy from our feature on the hit TV show "Nashville".
Tequila Cowboy offers an exciting experience with dining and a revved up nightlife. Tequila Cowboy is your one stop party when you come to Nashville with five venues under one rock'n rooftop.
Our 25,000 square foot facility also includes Rock Bar, which features a live stage that is accompanied by a full band nightly. Karma Lounge hosts a top 40-dance club that has a state of the art sound system and light show. Tequila Cowboy's game room is the perfect spot to shoot pool and watch the big game.
Our VIP room is the exclusive venue for your private events, and is the party headquarters for bachelorette/bachelor parties. Tequila Cowboy has the only mechanical bull on Broadway. Come test your strength and ride like the pro's do. If you want to be the star on Broadway, make sure to go to Wanna B's Karaoke Bar and pick from our 250,000-song catalog and get recognized. Tequila Cowboy and WannaB's Karaoke Bar are the only places that offers multiple experiences in Music City on famous Broadway.
Be sure to reach out to us through our Contact page or call us at 615-742-9078 to book your next event or vacation.
Business Location:
Tequila Cowboy Bar & Grill
37201
Nashville
,
TN
Neighborhood:
--Downtown
Downtown Nashville