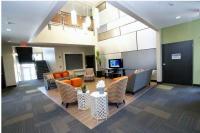 Enjoy living "green" in a lovely, brand new property that has been designed for convenience and comfort. Make Uptown Flats your new home - a place where quality customer service is our goal.
Uptown Flat's close proximity to downtown Nashville and access to transit lines make it an ideal location to call home.
Uptown Flats, a 3 story, 72 unit apartment community, offers one, two, and three bedroom units with prices beginning at $659.
The project was funded via a federal grant that is part of the Neighborhood Stabilization Program. Leadership in Energy and Environmental Design (LEED) certification is being pursued for this building, which has a sleek, angular, architectual design.