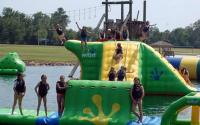 Victory Ranch was built in 2003 and was designed as a summer camp for kids. Therefore, our facilities meet exacting construction and safety standards. With our four air-conditioned lodges we can accommodate groups up to 160 for overnight outings. Each lodge has a commons room perfect for small group meetings. Our dining hall gives large groups plenty of room and all the audio-visual equipment necessary. Finally, our Outdoor Adventure Challenge facilities are among the best in the nation.
Summer Camp At Victory Ranch: Anytime someone shouts "Hold On!" the proper response is "Krateo!" It's a Greek word meaning to hold fast, to keep carefully. It's what kids do around here, whether it's holding fast to the face of a climbing tower or the reins of a horse or keeping carefully the words of a Roundup worship song in their hearts. Around here, holding on is the path to adventure. - See more at: http://www.victoryranch.org/summer-camp/#sthash.LzvLBmCu.dpuf
Victory Ranch Retreats Victory Ranch Offers Reatreats at our Facilities for both Corporate & Groups of all types!
From Nashville Travel WEST on I-40

Take Exit 80 South
Travel South on HWY 45 Bypass/South Highland

Turn RIGHT onto HWY 18 and travel South

At Bolivar Town Square, take a RIGHT at West Market Street/HWY 64

After 2nd red light, take a LEFT onto Mecklinburg Drive
After about 5 miles, take a RIGHT at the VR Front Gate
Ages: K - 9th grade
Camp Type: Overnight Camp
Camp Focus: Traditional Camp
Camp Dates: May 26 - July 18