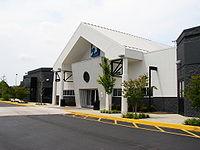 Watkins College of Art, Design & Film is a four year art and design college located in Nashville, Tennessee.
Watkins College offers Bachelor of Fine Arts degrees in film, graphic design, interior design, fine arts, and photography as well as Post-Graduate Certificates in film and graphic design.
Mission Statement
Watkins College of Art, Design & Film offers a studio-based curriculum, supported by a strong academic foundation. The faculty and staff are committed to a learning-centered environment that challenges the student to engage the mind, train the eye and cultivate talent and skill into an active realization of creative potential.
Our History
Over a century ago, Samuel Watkins, a former bond servant and self-educated Nashville businessman, envisioned an accessible school that would strengthen the city with free lectures and classes. His hopes were finally realized with the construction of Watkins Institute on his property in 1885. From these humble beginnings evolved one of the finest community-oriented art education facilities in the Mid-South, emerging today as Watkins College of Art, Design & Film.
Watkins Today
The college is regionally accredited by the Commission on Colleges of the Southern Association of Colleges and Schools (SACS-COC) and nationally accredited through the National Association of Schools of Art and Design (NASAD). The Bachelor of Fine Arts degree in Interior Design is additionally accredited by the Council for Interior Design Accreditation (CIDA). Watkins College of Art, Design & Film offers Bachelor of Fine Arts (B.F.A.) degrees in Film, Graphic Design, Interior Design, Fine Arts and Photography, a Bachelor of Arts (BA) degree in Art , and a Post-Graduate Certificate in Film.
In addition, Watkins offers many non-credit art and design courses through its Community Education program. This program consists of classes for children, teens and adults.
The Future
With its 65,000 square-foot facility, 2 state-of-the-art residence halls, 13 acres of land and plenty of space to grow, Watkins has positioned itself as a leader in visual arts education while at the same time adhering to the legacy of Samuel Watkins. Watkins College of Art, Design & Film continue to shape and positively influence the cultural horizon and economy of our community through art, design and film.
Business Location:
Watkins college of art, design & film
37228
Nashville
,
TN
Neighborhood:
--MetroCenter
Downtown Nashville