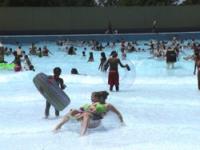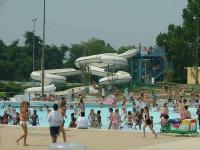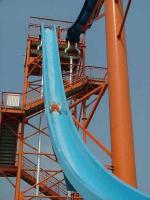 Children 12 years old and under must be accompanied by an 18 year old adult to come in Wave Country.
Wave Country Schedule
May 23, 2020 – August 9, 2020: Open 7 days a week
August 10, 2020 – September 7, 2020: Open Saturdays and Sundays only
September 7, 2020: Final day open
Hours of Operation
Monday through Thursday: 11:00 a.m. – 5:00 p.m.
Friday and Saturday: 10:00 a.m. – 6:00 p.m.
Sunday: 11:00 a.m. – 6:00 p.m.
Holiday Hours
Memorial Day: 10:00 a.m. – 6:00 p.m.
July 4th: 10:00 a.m. – 6:00 p.m.
Labor Day: 10:00 a.m. – 6:00 p.m.
DON'T MISS THE SPEED SLIDES! Drop from a 40 foot tower and travel 80 feet!
Wave Country is fun for the entire family. One of the area's only wave-action swimming pools! Ride the waves, or just let them lap at your feet. There are calm, "non-wave" periods as well. You will also have access to three water flumes and two speed slides! There's even a kiddie pool with water dropping features and a children's playground. Floats are included in your admission but the supply of floats is limited. Extensive fast-food concessions available!
kidsPicnic shelters in Two Rivers Park can be reserved by calling (615) 862-8408.
Business Location:
Wave Country Water Park
37214
Nashville
,
TN