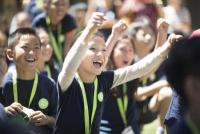 iD Tech Camps held at Vanderbilt University in Nashville. Students ages 7-18 learn to code, design video games, produce videos, mod Minecraft, create with Roblox, engineer robots, model and print 3D characters, work with AI and machine learning, build laptops, learn about cybersecurity, and more! Held at 150+ prestigious campuses nationwide—including Vanderbilt, University of Louisville, University of Memphis, Emory, Stanford, MIT, and more.
This summer, your child can explore a prestigious campus, make friends as they master new tech skills, and join a community of 350,000 alumni. With just 5-10 students per instructor, beginner to advanced students enjoy personalized learning at their pace, leading to "a-ha moments" and awesome outcomes.
Programs held at Vanderbilt include:
iD Tech Camps – Our flagship program offering all of the above for kids and teens ages 7-17. Weeklong, day and overnight options.
Alexa Café – An all-girls program for ages 10-15. Alexa Café offers a unique blend of tech, entrepreneurship, and social activism—all set in a stylish setting! Code an app for charity, design a mobile game, engineer wearable electronics, and more. Weeklong camps with day and overnight sessions.
iD Game Design & Development Academy – For ages 13-18. Students take on the role of a 3D modeler, gameplay programmer, or level designer, learn the full cycle of game production, and discover how to turn a love of gaming into a lucrative career. 2-week, overnight sessions.
Ages: 7-18
Camp Type: Day Camps | Overnight Camps
Camp Focus: Coding | Game Dev | Robotics | Creative
Camp Dates: June 1 - July 24