Best Live Bluegrass Music in Nashville
Best Venues for Live Bluegrass Music in Nashville
Nashville is home to a number of famous Bluegrass Music's famous stages like Ryman Auditorium, The Station Inn and Layla's Bluegrass Inn . Bluegrass Music is alive and kicking in Music City. Both traditional Bluegrass and smokin-hot Rockgrass can be found is some unbelievable live performances. Nashville Life list the best in Bluegrass Music venues here.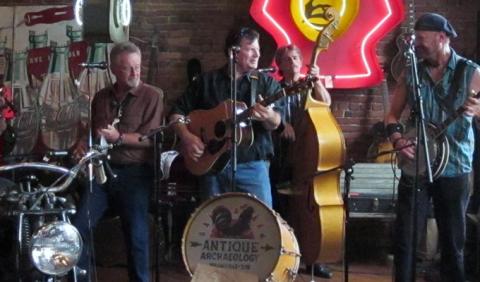 Live Bluegrass Music
Smokin' Hot Bluegrass Music played live by Reno & Harrell at Antique Archaeology in downtown Nashville Tennessee. Nashville is such an amazing city you don't know who you will see performing at downtown venues.
Live Bluegrass Music in Nashville
Founded by Kix Brooks, Arrington Vineyards is located 25 minutes south of Nashville among the beautiful hills of Arrington, Tennessee.
The Bluebird Café is one of the world's preeminent listening rooms and the venue has gained worldwide recognition as a songwriter's performance space where the "heroes behind the hits" perform their own songs; songs that have been recorded by char
Live music and Dead Crawfish! Ri'chard's Cafe is the ideal room for an extended set and the chance to give an intimate performance to a crowd that came to dine and hear our writer/artists tell their stories!
Richard's Cafe
37189
Whites Creek
,
TN
If you were backstage at the Opry on a show night, you'd be able to relax and share good times, surrounded by friends, family, and great country music.
Opry Backstage Grill
37214
Nashville
,
TN
The Station Inn... Bluegrass and Acoustic Music's premiere listening room. Celebrating more than 30 years of bluegrass and acoustic music in Nashville, Tennessee.
Smack dab in the middle of Nashville's Honky-Tonk Highway on Lower Broadway, Layla's is in a section of downtown famous for live country music.
Tennessee is all about the music, from the blues of Memphis to the the bluegrass music of East Tennessee and you cannot miss the famous Country Music stages in Nashville and Middle Tennessee where live music can be heard any day or night in tons o
The legendary Nashville Palace, once the home of the stars of The Grand Ole Opry and television shows such as Hee Haw and Nashville Now near Opryland, is now owned and operated by Jesse Lee Jones, the proprietor of Robert's Western World, the "Hom
The Nashville Palace
37214
Nashville
,
TN
Ascend Amphitheater located near Riverfront Park in downtown Nashville.
Every Tuesday Night Bluegrass Jam
Doors open at 4:30 Jam from 5:00 to 9:00 p.m.
Every Saturday Night Bluegrass Jam
Doors open at 4:30 Jam from 5:00 to 9:00 p.m.
First Saturday Night of each month

Live Bluegrass from NashvilleEar.com