Where to Stay in Nashville
Determining where to stay while visiting Nashville can be a tough decision because there are so many great hotels, bed & breakfast, and even cabins or campgrounds. The first thing you need to think about is do you want a location in the heart of all of downtown, do you want to be near Opryland, or maybe save a little money and stay a little ways out of town. We have the following guide to Where To Stay in Nashville to help you find the right place. Enjoy Life, Nashville Life!
Opryland Hotel is one of the top Destination Hotels in Nashville because who comes to Nashville without seeing the Grand Ole Opry which is located right next door. The reasons to stay at Gaylord Opryland Hotel only continue because there are great family attractions right near by including Opry Mills and the General Jackson.
Where do you want to stay in Nashville?
Nashville Hotels by Area or Features
Options Of Where to Stay in Nashville
There are so many great options of where to stay in Nashville that you might be overwhelmed, but just relax and ask yourself these questions: Do you want to be near the Live Music in Downtown Nashville? Do you want to stay in a historic hotel with loads of charm and style? Is it important to be near the Nashville Nightlife? Are you traveling with kids or pets and prefer to find a location that is friendly to your situation? Just make your list and check out listings including all of the great Things to do in Nashville that are nearby the hotels.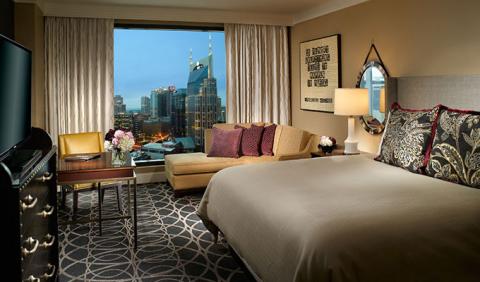 Check Out That View!
Great View of Downtown Nashville! It you want to stay in the heart of the city with a view of downtown Nashville the Omni Hotel is right for you.