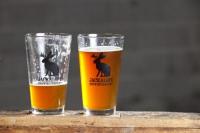 Learn more about the beers of Jackalope Brewery
Bearwalker Maple Brown
The recipe for Bearwalker was among one of the first recipes written by Brewmaster Bailey, years ago. Bearwalker is a maple brown, and the recipe pays homage to Bailey's home state of Vermont as we use 100% Vermont Maple Syrup in the brew. The result is a distinctive maple flavor that truly sets this beer apart and warms your belly.
Thunder Ann American Pale Ale
Thunder Ann is our American pale ale named after Ms. Sally Ann Thunder Ann Whirlwind Crockett. Davy's wife and an Undeniable Badass. With a citrusy aroma and dry-hopped with classic American varieties, Thunder Ann packs a one-two punch but can also be subtly sweet, just like its namesake.
ROMPO Red Rye Ale
Tour the brewery! Taste some beer! Have some fun! More…stuff! Tours are an hour-long and include a pint glass, tasting of our year-round brews, and a tour of the brewery. We offer tours every Saturday from at:
November through January: 2:00, 3:00, and 4:00pm
February through October: 2:30, 3:30, 4:30, and 5:30pm
TAPROOM HOURS
Wednesday: 4-8pm
Thursday: 4-10PM
Friday: 4-8PM
Saturday: 12-8PM
Sunday: 2-6PM
Business Location:
Jackalope Brewery
37203
Nashville
,
TN
Neighborhood:
--Downtown
Downtown Nashville