Long Hunter State Park is situated along the shore of J. Percy Priest Lake. From Nashville, take I-40 East to Mt. Juliet Road, Exit 226-A. Go south (right) 6.2 miles to the main park entrance. Or, take I-24 east to Old Hickory Boulevard, Exit 62. Go north (left) on SR171 6.4 miles to the main park entranceIt consists of four units: Couchville, Baker's Grove, Bryant Grove and Sellars Farm. Picnicking, swimming, hiking, backpacking, boating, fishing, nature photography and wildlife observation are among the activities available to park visitors. Planned activities include interpretive and recreation programs for the general public and environmental education programs for school and other interested groups.
Biking
The Jones Mill mountain bike trail is located in the Bryant Grove Recreation Area. It features two loops: one two-mile loop and one four-mile loop. These trails offer a variety of challenges to mountain bikers and a great view of the lake from Bald Knob. Hikers are also welcome on the bike trail.
Boating
J. Percy Priest Lake
Pleasure boating and water-skiing are popular on the 14,000-acre J. Percy Priest Lake. Long Hunter offers two launch ramps on J. Percy Priest Lake.
Couchville Lake
Rental boats are available for Couchville Lake at the park during the summer-use season.
Small personal boats without gasoline or diesel motors are allowed year round on Couchville Lake. There is no launch ramp on Couchville Lake for private boats.
Life jackets are required to be worn by anyone on Couchville Lake, including individuals using park rentals or a personal craft.
Tennessee Boating Regulations
Camping
Backcountry Camping
Long Hunter State Park has two backcountry camp sites that are located at the end of the 5.5 mile long Volunteer Trail. The trail head for the Volunteer trail is located just off of Hobson Pike at 1594 Bakers Grove Rd. There is a sign on Hobson Pike to indicate the location of the trail head. The Volunteer Trail is a linear trail so a hiker hikes in and out on the same trail without looping. The only naturally occurring water on the trail is Percy Priest Lake.
There is no charge for camping in the backcountry sites however we do ask that campers stop by the park office at 2910 Hobson Pike to fill out a camper registration form and pick up a trail map.
Group Camping
An area with adjacent lakeshore has been set aside for use by scout, church, or other organized youth groups. There is a small charge for overnight use and advance reservations must be made. Adult supervision is required.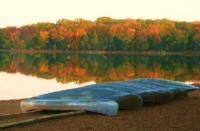 Business Location:
Long Hunter State Park
37076
Hermitage
,
TN
Neighborhood:
--Antioch & Priest Lake
East of Nashville
--Hermitage