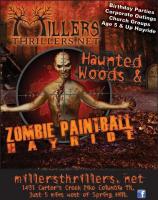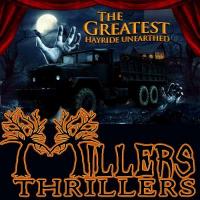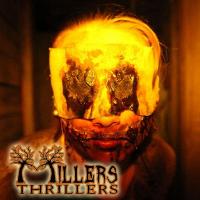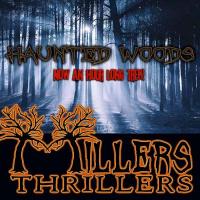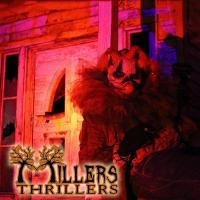 Opening Night Sept 28, 2019!
"Its a must see season at Millers Thrillers Haunted Woods and Zombie Paintball Hayride. This family friendly attraction is going all out for its 12 Year Anniversary Celebration! The Wow factor is off the scale with all new scenes and scares for 2019! Well worth the small drive from Nashville to witness this carnival atmosphere come to life!"
Zombie Paintball Hayride
YOU SHOOT LIVE ZOMBIES! That's Right, this is your chance to "open fire" and protect our city. Have you ever wanted to play paintball but didn't like the idea of getting shot or getting dirty? We have found the solution. The zombies have the rage but ONLY you have the weapons!
Haunted Woods
Millers Thrillers Haunted Woods has found a new darker location. Many moons ago phosphate miners canvassed these parts digging their way to put food on the table. The land swallowed up a pack of these miners and spit them out with various mutated bodies. They now roam these woods hiding in the rocks and trees. They are not use to seeing civilized people and no one is sure how they will react to that.
Entertainment Zone
Our ENTERTAINMENT ZONE is sure to give you a memorable night. If you don't go through an attraction or if you're waiting in line for them, you will be entertained throughout your experience at Millers Thrillers. We have plenty of seating around our fire pit and a delicious concession stand where you can also purchase glow sticks and t-shirts.
Business Location:
Millers Thrillers
38401
Columbia
,
TN
Neighborhood:
--Spring Hill
South of Nashville