Miss Kitty's Bed & Bath is proud to offer a full range of services custom-tailored to keep your pampered pooch safe, comfortable and happy!
Grooming Services
Miss Kitty's grooming salon is among the top pet grooming salons in the nation. Our stylists are National Certified Master Groomers and many have competed in grooming competitions. Our highly trained staff of bathers and stylists can transform your fuzzy furball into a fashion statement or a comfortable couch potato, depending on the preference of your pet.
Boarding Hotel for Large and Small Breeds
Miss Kitty's pet hotel offers a gentle, loving boarding alternative for smaller pets. The hotel was designed specifically for pets who don't do well in traditional kennels.
Doggie Day Care for Smaller Dogs
Miss Kitty's Daycare is open from 7:00 AM until 7:00 PM Monday through Friday. Daycare charges are for a full day regardless of when you drop off or pick up your pet.
Our daycare nanny spends the day with the pets. The nanny's sole job is to keep the guests happy and entertained. The nanny plays with the pets indoors and supervises their interactions with each other. When pets become bored indoors, they go out for walks around the property to run, stretch and exercise.
Canine Couture Fashions & Boutique
Full selection of collars, leashes and pet jewels from around the world. Clothing ranges from the practical, such as sweaters and raingear, to the more outrageous, such as sunglasses, sneakers, tuxedos, wedding dresses and formal wear. We also stock jerseys and tees for our college and professional sports teams. Does your pet cheer for an out of state team? We can special order canine sportswear!
For the pet lover, we have a variety of gifts ranging from breed stationary to garden ornaments, clocks, bangles and baubles. In addition, we have a special order catalog filled with uncommon items for the pet and pet lover from near and far.
Miss Kitty's Bakery
Our treats are full of wholesome goodness, especially baked with the pet's nutritional needs in mind. Only the best ingredients are chosen and used, such as whole wheat flour, eggs, carob, peanut butter, honey, cheese and other natural ingredients. Many of our treats are designed with the smaller pet in mind, making them easier to break and crunch. Several of our delicious cookies are our own special secret recipes. Miss Kitty's Pitter Pats have been our top seller for 20 years. Their wafer-like goodness will cause your pet's feet to pitter pat each time you open the bag!
We also keep a variety of bones and chewy items for both the large and the smaller canine customer. Pizzles and flossies are always in stock.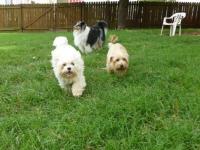 Business Location:
Miss Kitty's Bed & Bath
37204
Nashville
,
TN