Nashville's best OUTDOOR PATIO DINING restaurants
Best Restaurants with Outdoor Patio Dining in Nashville
If you love the atmosphere of enjoying a fabulous meal on an Outdoor Patio, Nashville is a great place to find just the right place. Listed here are some of Nashville's best Outdoor Dining Restaurants. Please take a minute to recommend to others what you think of these locations.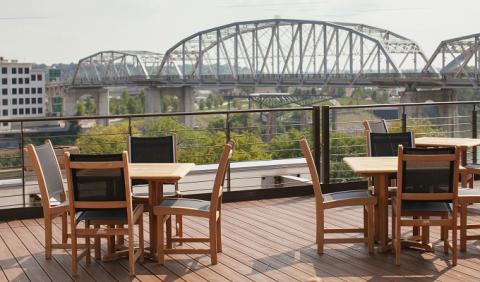 Acme Feed & Seed Rooftop Patio
Check out Acme Feed & Seed creates a uniquely 'Nashville' atmosphere with an amazing outdoor space with a spectacular view of the Cumberland River in downtown Nashville Tennessee.
Nashville's best OUTDOOR PATIO restaurants
Live music and Dead Crawfish! Ri'chard's Cafe is the ideal room for an extended set and the chance to give an intimate performance to a crowd that came to dine and hear our writer/artists tell their stories!
Richard's Cafe
37189
Whites Creek
,
TN
Located in the heart of the very trendy Gulch warehouse district, Sambuca in Nashville is a rockin' supper club that features live music, an eclectic European design and a roof top patio that overlooks the Nashville Skyline.
Sambuca Restaurants
37203
Nashville
,
TN
A neighborhood bar in the 12 south district. i offer a wide variety of delicious food and more tasty beer than you can shake a stick at. The list is a collaborative effort from the team here at the Taproom.
At Copper Kettle Cafe & Catering, we believe in doing things the old fashioned way - home cooked culinary delights from around the world and right here at home in Nashville.
--Copper Kettle Cafe Downtown Nashville
37210
Nashville
,
TN
Our floating patio and tasty food will satisfy your search for a relaxing lunch or dinner. Check out our new menu selections.
Shipwreck Cove Restaurant
37214
Nashville
,
TN
The Dog of Nashville first opened it's doors in January of 2007 and has quickly established it's self as a local fixture in the Nashville dining scene.
The Dog of Nashville
37212
Nashville
,
TN
Rock Bottom Nashville boost about fresh, brewed-in-house beer, and Nashville's biggest and best bar and dining patio in the center of the downtown Nashville strip.
Rock Bottom - Nashville
37201
Nashville
,
TN
Husk Restaurant located in Rutledge Hill—just a few blocks south of Historic Broadway, in the heart of Downtown Nashville—is the newest outpost of the Neighborhood Dining Group and James Beard Award-winning Chef Sean Brock's renowned restaurant, H
Saint Añejo is M Street's premiere Mexican restaurant, featuring inspired Mexican cuisine, Latin mixology, and a premium tequila and mezcal menu of over 120 labels.
Edley's Bar-B-Que is the spot for all barbecue-eating, good-times lovin' Nashvillians. We're looking forward to serving up good food and good times for years to come.
Pages