Nashville Recording Studio
Best Recording Studios in Nashville
Because Nashville is a music hub thousands of musicians and artist flock here from all of over the world. With all of this music talent and admiration for the music business it is no wonder that Nashville is best known as Music City. According to Radus Tennessee ranks fourth for radio stations, but the state tops the charts for music venues and recording studios. From legendary recording studios to the up-an-coming studios that you haven't yet heard of Nashville is the place to find talent behind and in front of the mixing board.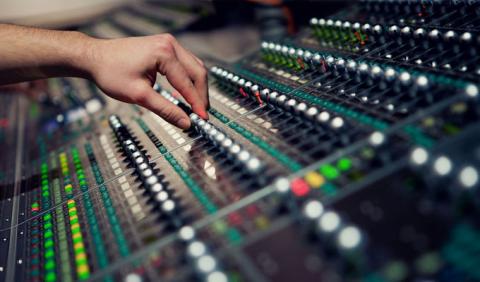 Nashville Recording Studio
Denny Martin Music
37013
Antioch
,
TN
What began as three independent Nashville artists performing together, has evolved into a tight-knit acoustic Americana trio. Drawing from influences as diverse as Nickel Creek, Ray Charles, and Jeff Buckley, The Vibe Dials have a real synergy.
Vibe Dials Recording Studio
37206
Nashville
,
TN
Catch This Music has the unique ability to match the warmth of analog with the functionality of digital recording to maximize your full recording potential.
Catch This Music
37212
Nashville
,
TN
The B Room at County Q began in the early 1990's as a way to make demo production more efficient.
For 90 years 650 AM WSM has been a leader in Country Radio.
Visit us at 650 AM or worldwide at WSMOnline.com.
Warner Music Nashville was created in 2009 to expand the presence of WMG and its family of labels in Nashville. The division is home to Atlantic Records, Warner Bros. Records, Elektra Nashville and Word Entertainment.
Warner Bros Records
37203
Nashville
,
TN
Carnival Music isn't a publishing company, or a record label, though it does the work of both.
Carnival Music
37203
Nashville
,
TN
Capitol Records Nashville operates as part of the Universal Music Group Nashville. From 1991 to 1995, Capitol Nashville was known as Liberty Records, before being changed back to Capitol in 1995.
UMG Nashville
37203
Nashville
,
TN
Celebrating its 50th anniversary, Curb Records is one of the world's leading independent music companies.
UMG Nashville consists of Capitol Records Nashville, EMI Records Nashville, MCA Nashville and Mercury Nashville.
"I Wish I Didn't Like Whiskey" by Mike Cullison