Nashville's Biggest and Wildest Non-stop party Tour!
The Nashville Tractor is bringing the farm party to Broadway! Strap on your boots, grab your friends and come join us for Nashville's only non-stop party wagon tour pulled by a bright red CaseIH tractor.
The Nashville Tractor operates Nashville's biggest Tractor Party Wagons. We are the only rolling entertainment where you get non-stop partying and dancing for 75 minutes! These monster wagons have been featured in numerous music videos, news stories and reality shows on MTV like Siesta Keys. Hell yes, Size Matters, when it comes to partying so party big. No need to go all over town to get your drinks! BYOB is not allowed! We sell a variety of beer and seltzers onboard the wagon.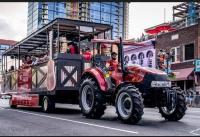 Neighborhood:
--Downtown
Downtown Nashville