When Isaac Beard, founder and owner of Pepperfire Hot Chicken, first tried hot chicken, the experience became an obsession. For a decade prior to opening Pepperfire's doors, he fueled this addiction with daily visits to local providers and crafting recipes out of his own kitchen. After three years of honing his spice blends, Isaac had finally focused a passion into the now iconic Pepperfire Hot Chicken spice.
Best known for their consistent, unique flavor, Pepperfire's spice can be enjoyed across a wide array of heat levels from 'Light Mild' to 'XX Hot.' And with dishes ranging from authentic hot chicken to the innovative Tender Royale, tenders atop a deep-fried grilled cheese sandwich, Pepperfire blends its spice with an authentic credibility and modern interpretations.
Pepperfire has since become a destination location recognized by local and national audiences. Featured on Travel Channel's Chowdown Countdown, Pepperfire has also been consistently ranked each year in Nashville Scene's 'Best of Nashville' awards and sanctioned by the Hot Chicken Coalition as one of Nashville's six official hot chicken providers.
The history of Hot Chicken is a crucial chapter of the Nashville story. Moved from family kitchens into a national spotlight, the future of hot chicken transcends city borders and local shops. Regardless of where the story is headed, Pepperfire is at its forefront, and they will continue evangelizing with the same energy that made them what they are today.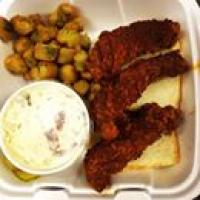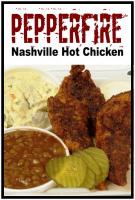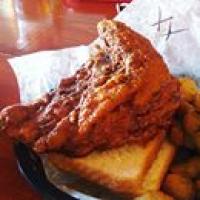 Business Location:
Pepperfire Hot Chicken
37209
Nashville
,
TN