Nashville Bar & Grills
Nashville's Best Bars and Grills
Nashville is full of local neighborhood bars! These are some great locations to meet your friends for a drink and quick bite to eat. Some have live entertainment, TV Screens, theme nights and dancing. Nashville is known for the best bars and grills in the Middle Tennessee area.We have live music in just about all the bars. Your waiter is probably a songwriter as well as your waitress. Nashville has some of the best live entertainment because the best songwriters live and work here. The tasty local food in Nashville can be had while enjoying our live bands in the best bars and grills in Tennessee. We have searched all over town in Nashville to find the best places for you to have a good time in Music City.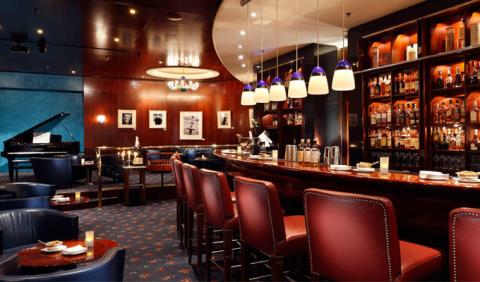 Nashville Bar & Grill
Located downtown Nashville, in Historic Printers Alley, BSBBB is legendary for the best in live blues. Anyone who's anyone has jammed on our stage, and locals and visitors alike all know if you want real blues, this is the place to come!
Bourbon Street Blues & Boogie Bar
37201
Nashville
,
TN
If you were backstage at the Opry on a show night, you'd be able to relax and share good times, surrounded by friends, family, and great country music.
Opry Backstage Grill
37214
Nashville
,
TN
A neighborhood bar in the 12 south district. i offer a wide variety of delicious food and more tasty beer than you can shake a stick at. The list is a collaborative effort from the team here at the Taproom.
Check out Live Music in one of Nashville's best music venues. You can catch many very famous musicians here depending on who is in town recording.
3rd and Lindsley Bar and Grill
37210
Nashville
,
TN
The Wildhorse Saloon is Nashville's #1 Dining and Entertainment destination and a mecca of entertainment in America.
Wildhorse Saloon
37201
Nashville
,
TN
Music City Bar & Grill is Nashville's premier late night bar for 21 and up only located near The Opryland Hotel main entrance.
Music City Bar & Grill
37214
Nashville
,
TN
Welcome to Swingin' Doors Saloon! We are located in beautiful and historic downtown Nashville Tennessee right off of Broadway at 111 4th Ave S (right behind the Hilton).
Located on the 2nd floor of Piranhas Bar and Grill, The Attic is both a live music addition to Piranhas and an event space. Piranhas will now provide nightly entertainment to go along with their unbelievable original menu.
Established in 2004, Nashville Crossroads has become one of Nashville's only live music venues to combine classic country music and southern rock and roll.
Nashville Crossroads Bar
37203.
Nashville
,
TN
Tequila Cowboy is the premier spot in Nashville Tennessee, located on the world famous Broadway.
Tequila Cowboy Bar & Grill
37201
Nashville
,
TN
Pages