The Studio is a 3,000 square foot facility designed to encourage all facets of clay creativity. Offering classes in low-fire, mid-fire, and C/10 gas and wood fire, we have 3 separate studios dedicated to pottery, hand-building, and sculpting. The studio holds 16 wheels, 7 kilns, a full size slab roller, extruder, and a full array of Opulence Glazes as well as tools and supplies for any clay endeavor. The Clay Lady's Studio offers four sessions per year of day and night classes for adults (see Workshops list for opportunities for ages under 16). If you can't make an on-going class, we also offer One-Day Workshops for skills building and enhanced technique. All classes are taught by nationally-known clay artists.
Pottery Classes
Classes are 3 hours long, once a week.
We have four 9-week sessions a year.
All levels of experience are welcome in every class (Ages 16 and up)
Each class provides C/6 instruction on the Pottery Wheel and Hand-Building.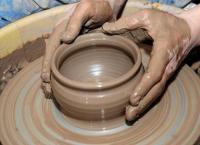 Business Location:
Mid-South Ceramic Supply
37210
Nashville
,
TN