Cobalt Premier Properties
Welcome to Cobalt Premier Properties. Our entire team welcomes you to beautiful Middle Tennessee. Whether you're buying or selling, the Realtors at Cobalt Premier Properties will provide you with the highest level of customer services designed to meet your specific needs. Whether you're searching for a retirement cottage, a gentlemans farm, a family haven, an urban loft, or an investment property, your Cobalt agent will know exactly how to guide you.
Let us show you around the nooks and crannies of historic Williamson County...Brentwood, Franklin, Liepers Fork, Arrington, Nolensville, Thompson Station, Grassland, Spring Hill...from the charming Victorian Main Street of Franklin, to the lush hills of central Tennessee...from the rolling horse farms...to the neighborhoods with the amenities your heart desires... Sullivan Farms, Fieldstone Farms, Legends Ridge, Dallas Downs, Brookfield, Avalon, Hampton Reserve, Governors Club, Princeton Hills, Cool Springs and all the other communities that make Williamson County one of the nation's most popular corporate and residential destinations.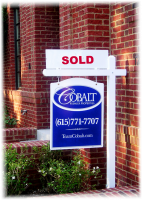 Business Location:
Cobalt Premier Properties
37067
Franklin
,
TN