Nashville Leisure Activity: Cooking Classes
Cooking-Classes in Nashville Tennessee
It use to be that you would learn to cook from your mom and that was it. Today there are all kinds of gourmet cooking schools, pastry classes and unique trends that make cooking schools hip. Don't slow down get your oven mitts and wooden spoons out and whip up a dish to make you mama proud!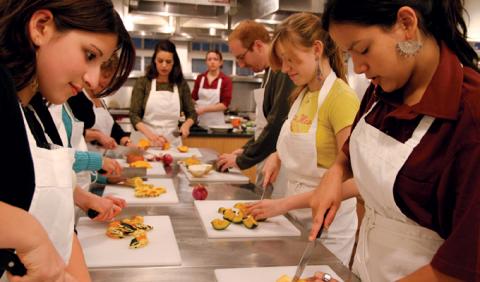 Sharpen Your Cooking Skills
Develop your culinary skills at a Nashville area cooking classes. Whether you're new to the kitchen, want to sharpen your culinary skills or just want to have a fun night we have the cooking class.
Cooking Classes
The Chef and I Cooking Classes focuses on a different culinary influence, and we work specifically with each individual's skill set and desired level of involvement. The atmosphere is fun, educational, and of course, DELICIOUS.
The Chef and I Cooking Classes
6900 Lenox Village Drive, Suite 14
37211
Nashville
,
TN
Dabble Studio is happy to host your special event! Our venue is the perfect place for any party or gathering you would like to host, whether you include a cooking class, painting class, or one of our typical events or not!